Detaillierte Informationen über Events & aktuelle News werden nur noch per Whatsapp versendet. Diese Gruppe findet über Broadcast statt. Damit findet keine Gruppenkommunikation statt und die Teilnehmer können nicht eingesehen werden.
Um in den Verteiler aufgenommen zu werden, können Sie mir gerne eine E-Mail mit Ihrer Whatsapp Nummer senden.
If you are interested in booking my bodega for a private event such as your birthday or a wedding, I offer several options. You will soon find out more about this on a separate page...
Die nachfolgend aufgeführten Events fanden und finden 2023/24 statt. Zudem finden Sie hier eine Event History aus 2023.
Hier finden Sie eine Übersicht über die Möglichkeiten, auf der Bodega Ihr Event zu realisieren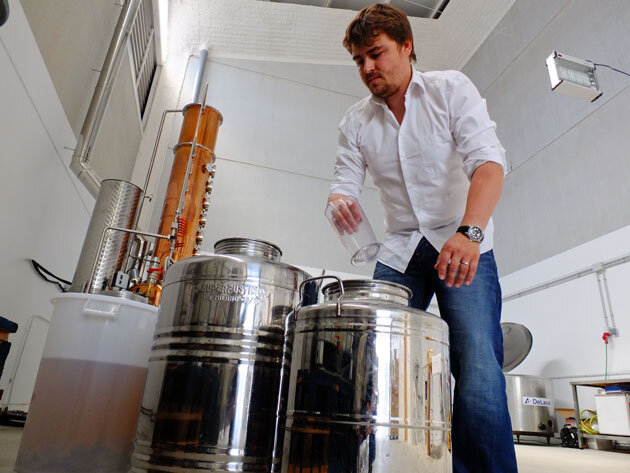 Bodega Maruccia
Camí de Son Mendívil B.30, Illes Balears, Spanien
Am 3. Februar kommt Stefan Winterling mit seinen prämierten Gin Eva Kreationen erneut auf die Bodega Start: 15 Uhr 49 EUR / PAX
GIN DEGUSTATION MIT STEFAN WINTERLING AM 3. FEBRUAR 2024
Am 3. Februar kommt Stefan Winterling mit seinen prämierten Gin Eva Kreationen erneut auf die Bodega
Start: 15 Uhr
49 EUR / PAX
AM 14. FEBRUAR 2024: ERSTE SINGLE PARTY AUF DER BODEGA
IST NICHT DER VALENTINSTAG IDEAL FÜR EINEN SINGLETREFF? Wer wirklich etwas mit Niveau sucht, der ist an diesem Tag uns richtig: Wir bieten die erste Single Party auf der Bodega an. Gemeinsam mit Klaus Brunmayr findet dieses Event an der Poolarea der Bodega statt. 
Start 14 Uhr
100 EUR / PAX
AM 25. FEBRUAR 2024: PRÄSENTATION DES NEUEN ROSÉ "LA ESPERANZA 24"
Am 25. Februar wird der neue Rose "La esperanza" exklusiv nur den Mitgliedern des Club de vino 953 präsentiert


Start: 14 Uhr
KOSTENLOS
AM 29. und 30. MÄRZ 2024 KOMMT BERND BACHOFER
Zu Ostern kommt wieder zusammen, was zusammen gehört. Sternekoch Bernd Bachofer kommt erneut auf die Bodega. Bernd kommt aus meiner alten Heimat und ist dort und weit darüber hinaus bekannt für seine asiatische Cross over Küche
Es finden 2 Abende statt. Karfreitag und Samstag::
Start jeweils 19 Uhr
MITGLIEDER 220 EUR
GÄSTE 270 EUR
Mid August. until October: Harvesting and grapes stamping at the bodega
As always, we start with the Chardonnay harvest in mid-August and tread the grapes and eat and drink together. The date will be set shortly beforehand, as every year, and will be announced via Whatsapp group and mail.
Klaus Brunmayr comes again at the 9th of October
Favorits by Klaus are a permanent fixture at the Bodega and anyone who has been there knows why.
23 September: Paella event at the Bodega
On 23 September we start at 2pm with a paella party at the Bodega. We will celebrate at the new outdoor area of the Bodega and enjoy ourselves. If the weather does not cooperate, we will go into the club area.
16. AUGUST: SUSHI KURS MIT KLAUS BRUNMAYR
There he is again! Always a pleasure and this time you shall also be instructed in the great art of sushi making. Cooking course with Klaus for only 8 members.
11. JULI: 3 STERNE-/ UND AUSNAHMEKOCH JUAN AMADOR KOMMT ERNEUT
We are very happy! An absolute highlight on the island. After Frankfurt and Mannheim, Juan has also earned and kept his third star in Vienna and is still the first chef to hold 3 stars in Austria. This is the fourth time Juan has cooked with us at Club de vino 953.
2 JULY : BIG SUMMER PARTY AT THE LONGEST TABLE ON THE ISLAND
Like last year, we will once again celebrate a summer festival in my new planting in the middle of the vineyard at the longest wooden table on the island. You can look forward to a very special experience that will only happen once in this form.
Start: 18 Uhr
13.5; Russell Pirrit comes again
We are very much looking forward to Russell Pirrit, who is cooking at the Bodega for the fourth time.
Russell ist ein Neuseeländer und hat den Stern im 5 in Stuttgart erkoch. Er ist für mich einer der kreativsten Köche, die ich kenne
und fester Bestandteil unserer Sternekochriege um Juan Amador, Bernd Bachofer und Brunmayr Klaus.
Freut euch auf ein besonderes Event: Start 18.30 Uhr
AM 7. APRIL: KLAUS BRUNMAYR MEETS BODEGA MARUCCIA MIT FAVORITSBYKLAUS UND DAZU KORRESPONDIERENDEN WEINEN
Im April kommt wieder zusammen, was zusammen gehört; Klaus Brunmayr kocht auf meine Weine abgestimmt FAVORITSBYKLAUS Freut euch auf einen der besten Privatköche auf der Insel, der seine favorite dishes erneut auf meine neuen Weine abgestimmt präsentieren wird.
AM 18. FEBRUAR: PRÄSENTATION DES NEUEN ROSÉ "LA ESPERANZA"
On 18 February, the new rose La esperanza will be presented exclusively to the members of the Club de vino 953
Ich freue uns schon sehr
Start: 14 Uhr
AM 4. FEBRUAR: GIN DEGUSTATION MIT STEFAN WINTERLING
On 4 February Stefan Winterling comes to the Bodega with his award-winning wines from Gin Eva. We are very much looking forward to it Stefan Start: 2 pm